Facebook Insights tracks likes, page views, and more. Facebook analytics tells you who your audience is and how they're interacting with your page. This Guide Facebook Analytics help you to understand the basic issue.
If your business is using Facebook, you need to be using Facebook analytics. It's packed full of insights and data that can help you get the most from the social network that reaches 1.62 billion users every day.
Why use Facebook analytics (a.k.a. Facebook Page Insights)?
When using Facebook for business, you need to take a structured approach that ties your social media efforts to real business goals. Analytics give you tons of valuable information that can help you track and measure your results so you can refine your strategy and measure your return on investment.
Understanding how and when people interact with the content you post on Facebook is also an important way to make sure the Facebook algorithm works for you, rather than against you.
This guide to Facebook Insights will help you understand how and why each metric is important to your overall social media strategy.
Facebook Page Insights vs.  Audience Insights
Insights of Facebook Page and Facebook Audience Insights are both Facebook analytics tools. There is a little bit of overlap between the two of them, but they serve very different purposes. The key to how to use each is in the name of the tool:
Page Insights gives you detailed analytics for your Facebook Page, so you can track what works, learn how people interact with your content, and improve your results over time.
Audience Insights helps you understand your Facebook audience so you can better target ads and create more relevant content.
In this post, we walk you through how to use Facebook Page Insights. Looking for information on how to track and analyze your Facebook audience? We've got a whole blog post about how to set up and use Facebook Audience Insights to get you started.
How to use Facebook analytics
First things first. To access Facebook Page Insights, go to your Facebook Page and click Insights in the top menu. If you don't see Insights in the menu, click More to bring it up.

You'll be taken straight to your Overview, which you can access again at any time by clicking Overview in the left-hand menu.
Overview: The big picture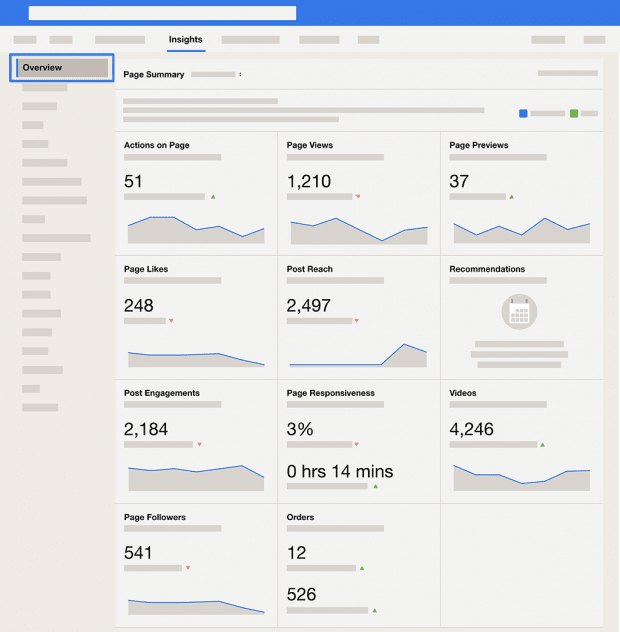 The Overview gives you a bird's-eye view of everything that's happening with your Facebook Page. You can choose to view data for the last seven or 28 days, for the current day, or for the previous day.
Here is a Guide Facebook Analytics
The Overview is broken down into three sections, starting with the Page Summary. Here, you'll see a set of graphs with top-level metrics for a number of categories:
Actions on Page: The combined total clicks for your contact information and call-to-action button
Page views: Total views of your Facebook Page, including by people not logged into Facebook.
Previews of Page: The number of times people hovered their mouse over your Page information to see a preview of your Page.
Likes Page: The number of new likes.
Post reach: The number of people who saw your posts in their timeline.
Story reach: The number of people who saw your Stories.
Recommendations: The number of people who recommended your Page.
Post engagement: A combined total of post likes, comments, shares, and other engagements.
Responsiveness: An evaluation of how often and how fast you respond to messages.
Videos: The number of video views of three seconds of more.
Page followers: The number of new followers
Orders: Your orders and earnings.
You can click on any of these charts to get more detailed information, or click on the corresponding item in the left-hand menu.
The second section is called Your 5 Most Recent Posts. This gives you the reach and engagement numbers for your latest posts. There's also an option to boost your best performing posts right from this screen.
Finally, you'll see a section called Pages to Watch. In this section, you can manually add in Pages you want to compare to your own. For example, you could add a competitor's page to see how you measure up. This can be a good way to benchmark your results against the major players in your industry.
Directly under the page summary, you'll see a box with the heading Ad Results Have Moved. All tracking for Facebook ads has moved to a separate ad analytics page called Ad Center. You can find it in the top navigation menu of your Facebook Page by clicking More.
Posts: Detailed analysis
The Posts section of your Facebook page analytics dashboard gives you tons of important information about your posts and the activity on your Page, divided into three tabs:
When Your Fans Are Online
Post Types
Top Posts From Pages You Watch
It's a bit confusing, because only the information in the box at the top of the screen changes when you click on one of these tabs. The information in the section below this top box, called All Posts Published, stays the same.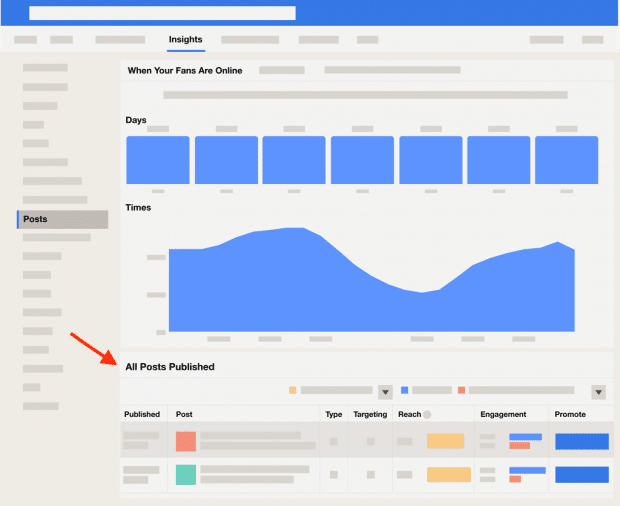 We'll start with the All Posts Published section before moving on to what you can learn from the individual tabs at the top of the page.
Bonus: Download a free guide that teaches you how to turn Facebook traffic into sales in four simple steps using Hootsuite.
All posts published
Here, you can review the results for all the posts you've published on your Page. For each post, you can see:
Type: Was it a link post? A photo post? A video? This column can help you understand which types of posts appeal most to your audience.
Targeting: Was it a public post? Did you target a specific audience? When comparing results, make sure you take the targeted group into account.
Reach: By default, this column shows the number of people who say your post. To see the breakdown of paid versus organic reach, hover your mouse over the yellow bar. At the top of the All Posts Published section, there's a drop-down menu that you can use to change what's displayed in this column. Your other options are to view impressions (organic vs. paid) or reach among fans vs. non-fans.
Engagement: Here you see the number of clicks each post got, as well as the combined number of reactions, comments, and shares.
There's also an option to boost your posts right from this screen.
Now let's look at the extra information you can learn from the three tabs at the top of this screen.
When your fans are online
This graph shows you at a glance when your fans are online, averaged out for the time period you choose.
You can get specific audience numbers for each hour of the day by scrolling your mouse across the graph. You can also see specific patterns for the various days of the week by moving your mouse over the Days boxes above the graph. This can help you check whether your fans have the same browsing patterns on the weekends as they do during the week.
Post types
This section gives you an aggregate view of how well different post types perform with your audience based on reach and engagement.
Top posts from Pages you watch
Here, you'll see more detailed information about the Pages you've chosen to track in addition to your own. You'll only see engagement numbers, not reach, but this can still provide great insight about what kinds of content are working for your competitors.
Facebook analytics tips and what to track
What to track using Facebook Insights
Facebook Page Insights can help you answer these important business questions.
Reach and engagement: How many people saw your posts? Who interacted with them? Which posts did people hide? Did people report any posts as spam?
Actions: What actions do people take on your Page? How many people click your call-to-action button? How many people click through to your website?
People: What are the demographics of the people who visit your Page? (You can dive deeper into this topic with Audience Insights.) When do people visit your Page? How do people find your Page?
Views: How many people are viewing your Page? Which sections are they looking at?
Posts: How are your posts performing over time?
You can access data going back a maximum of two years. This gives you a good set of long-term information to track your progress. It also means you'll be able to identify any standout content that continues to spark engagement over the long term.
Tips for getting the most of out Facebook analytics
This might sound obvious, but it's so important that it bears repeating. There's very little point in tracking your performance if you don't use that information to improve your results in the future. Guide Facebook Analytics
Here are some ways you could tweak your strategy based on what you learn:
Rethink your target audience
Are the people who are actually visiting your Page the same people you thought would visit your page? Remember that you can get much more detail about your audience using another built-in Facebook Analytics tool, Audience Insights. But you get a good overview in the People section here.

More importantly, who are the people that engage with your Page the most? In the Actions on Page section, you can see who clicked on your contact information, call-to-action button, or website broken down by age and gender, country, city, and device.
Try adjusting your Facebook content strategy to better align with the audience that naturally connects with you here.
Do what works and ditch what doesn't
Look for trends in your content that performs well so you can create more posts like these.
At the same time, watch for posts that trigger any negative engagement, like hiding posts or reporting as spam, to see if you can identify what went wrong (and avoid doing it again). You can find this information by selecting Reach in the left-hand menu.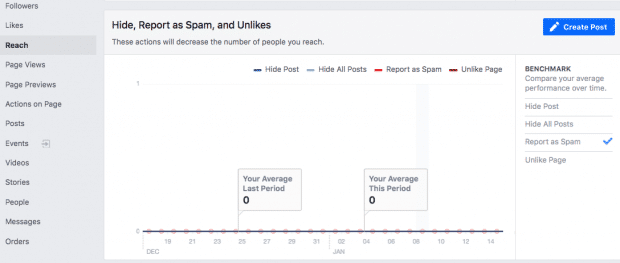 And keep an eye on your unfollows. If you see a spike of people choosing to unfollow your page, look at the content you posted that day. Did you share something that annoyed your fans? You'll find this information under the Followers tab in the left-hand menu.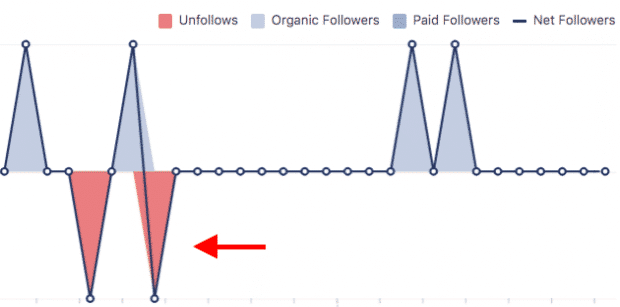 Schedule your posts at the best times – Guide Facebook Analytics
Timing matters on Facebook. When you're first getting started, it's a good idea to time your posts based on data collected by experts. (Like Hootsuite! Check out our recommended best times to post on Facebook.)
But once you have real data about your own Facebook Page, you can schedule your posts for the times your own specific audience is most likely to be online. You can find this information under Posts.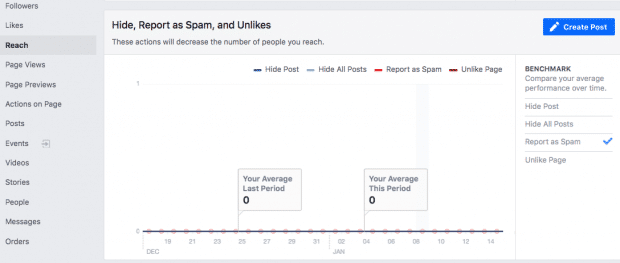 Optimize your Page for your preferred action
Facebook Page Insights shows you what actions people take on your website, from interacting with posts to clicking on your contact information to clicking through to your website.

So how do those actions align with the goals stated in your Facebook marketing strategy?
Think about what you really want people to do on your Page. Then use Page Insights to see which of the possible actions on your Page people engage with the most.
How can you refine your Page to steer them in the direction of your preferred actions? Maybe you should consider changing your call-to-action button. Maybe you need to change your pinned post.
Page Insights will help you see how small changes can have a big impact, and help make sure your Facebook Page is supporting your most important business goals.
Check back often
Checking in on Facebook Page Insights is not a one-time activity. Your Guide Facebook Analytics data is constantly updating, so you'll want to pay attention to any patterns you see developing.
If you want to keep a permanent record or import your data into a different analytics tool, you can do that, too. Click Export Data on the top right of the overview tab to download data about your page from any 180-day period in the last two years.

You can choose to download data for your Page, your posts, or your videos. Just choose the specific date range and file format that works best for you.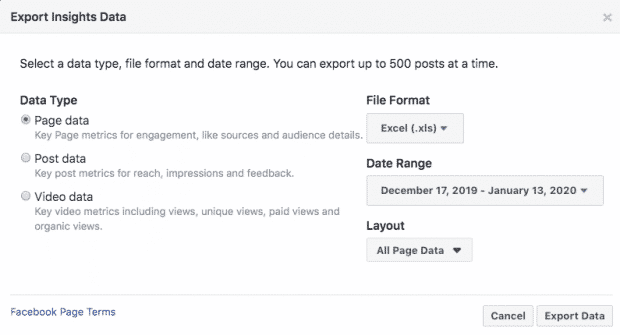 Facebook analytics tools
1. Facebook Audience Insights and Ad Center
This post covers how to use Facebook Page Insights. But there are a couple of other Facebook analytics tools built into the platform:
Facebook Audience Insights: As mentioned above, this tool can help you dive deep into your audience, so you can learn how to effectively target your Facebook ads and organic content. Learn how to use Facebook Audience Insights.
Facebook Ad Center: As mentioned earlier, ad results have moved from Page Insights to the Ad Center. To access Ad Center, click More in the top navigation on your Facebook Page. Here, you'll be able to track the ads you created from your Facebook Page. If you created your ads using Ads Manager, you'll find the results there.
Brandwatch  as a part of Guide Facebook Analytics allows you to track Facebook metrics like reach and likes, as well as keeping tabs on how many people are talking about your content on the network.
It also includes topic clouds and sentiment analysis, so you can understand the conversations that are happening about your brand on Facebook.
Audiense as a part of Guide Facebook Analytics helps you understand your audience in greater detail. You can then generate reports to understand what your audience is talking about on Facebook, so you can create content that hits the right tone.
Digimind  as  a part of Guide Facebook Analytics helps you understand your audience on Facebook and track performance against your competitors. You can see how your social share of voice compares to other leading bands in your industry.
Digimind also helps you analyze key metrics like conversion rate and cost per lead.
Use EasySocialPost to manage your Facebook page alongside your other social media profiles and get easy-to-understand analytics—all from a single dashboard. Try it for free today.